By: Mason Prewett

Many organizations begin using Power BI Premium Per User licensing before deciding to move to Premium Capacity licensing. Most think making the change is an upgrade, but there are some factors that should be considered before making this decision.
Below is a breakdown by Microsoft of the technical differences between Premium Capacity tiers. I will be referring to this information throughout the article, so I wanted to add it here for easy reference.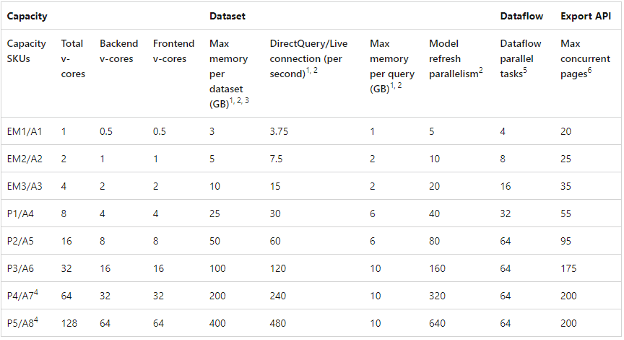 Source: Microsoft.com: "What is Power BI Premium Gen2?"
Power BI Premium Per User (PPU) Pricing and Advantages
Premium Per User (PPU) licensing costs $20 per user per month. Everything that comes with a Pro license is included with a PPU license (for more information on Power BI's Pro licensing, check out our previous article, Power BI Pricing – How Much Does Power BI Cost?).
PPU also gives users access to most of the features of a Premium Capacity license but not the flexibility of being able to adjust capacity or tenant settings.
PPU workspaces are hosted on a shared capacity with other customers, so the impact on performance that may be caused by sharing resources is unpredictable.
In order for users to be able to view a report published in a PPU workspace, they need to have a PPU license. This is the most significant limitation of PPU and what may justify the price for a Premium Capacity license.
PPU is best for an organization that has less than approximately 250 report viewers. This would require 250 PPU licenses and cost $5,000/month. Any more viewers than this and the benefits of Premium Capacity start to be a better value.
There are other possible limitations to moving to Premium Capacity from PPU that I will cover later in this article.

Power BI Premium Capacity Pricing and Advantages
Premium Capacity licensing starts at $4,995 per month. This price is for the P1 capacity (see the chart above) and the price doubles as you increase the Premium Capacity tier. Additionally, each developer that needs to publish Power BI content to a Premium Capacity workspace must have a Pro license to do so.
All premium capacity tiers come with all of the features that Power BI has to offer as well as full control over capacity and tenant settings. A Premium Capacity is also dedicated to an organization that is subscribed to it, so no shared resources.
Users that view reports published in a Premium Capacity tier do not require any license to do so. This is the major advantage of moving to a premium capacity, as the Power BI viewers are unlimited. The Premium Capacity license is best for larger organizations that have more than 250 report viewers (or expect future growth beyond 250). It is also best for organizations that wish to control every aspect of the capacity and tenant settings.

Power BI Premium Per User is Equal to a P3 Premium Capacity
If an organization has very large datasets, there are some details to be aware of before moving to Premium Capacity from Premium Per User. Premium Per User size limitations are equivalent to that of a P3 Premium Capacity. See the chart above for reference.
If an organization decides to go from PPU to a P1 or P2 Premium Capacity, the max size limits are technically lower. For example, if a workspace contains a dataset that is 30gb, it would be within limitations for PPU (100gb limit) but would begin to receive errors in a P1 Premium Capacity (25gb limit). These are very large numbers and datasets this size are not typical. However, this can be misleading as it seems like an overall upgrade to move from PPU to Premium Capacity, but unless the move is to P3 the size limitations are lower.
A Premium Capacity P3 is the only Power BI licensing tier that truly unlocks everything.

Conclusion
Thinking of moving from Premium Per User to a Premium Capacity as an upgrade is not exactly accurate. It comes down more to what is most important for an organization. Below are some examples of which licensing model I recommend based on the most important requirement to an organization.

Most Important Requirement – Recommended License
Large number of report viewers – Premium Capacity P1/P2/P3
Large datasets – PPU or Premium Capacity P3
Lowest cost – PPU if report viewer count is small enough
Control over capacity – Premium Capacity P1/P2/P3
Thanks for Reading! Questions?
Thanks for reading! We hope you found this blog post useful. Feel free to let us know if you have any questions about this article by simply leaving a comment below. We will reply as quickly as we can.

---
Keep Your Data Analytics Knowledge Sharp
Get fresh Key2 content and more delivered right to your inbox!