At the end of October, our team joined thousands of other data professionals to attend the 2016 PASS (Professional Association for SQL Server) Summit, the world's largest conference for Business Intelligence and SQL Server professionals. Held at the Washington State Convention Center, attendees focused on learning more about SQL server, hearing what's new from Microsoft's experts, and digesting and sharing the industry's current trends and technologies. All of that in addition to enjoying the wonderful city of Seattle…who doesn't love the Emerald City?! 
To kick things off, the Day 1 Keynote was presented by Microsoft's very own Joseph Sirosh, the Corporate Vice President of Microsoft's Data Group. Mr. Sirosh began his presentation with an overview of today's data challenges and introduced to his audience a concept called ACID Intelligence. Many IT professionals generally know ACID as a description of database transaction properties of Atomicity, Consistency, Isolation, and Durability. In addition to this industry-wide understanding, Mr. Sirosh offered an entirely new cognizance of ACID Intelligence: Algorithms, Cloud, IoT, and Data. We've broken down what each term means under Microsoft's new ACID concept:
Algorithms – Algorithms apply the business logic as well as the research logic to consume and analyze large amounts of captured data.
Cloud – The cloud is where data is both sourced and stored, especially when businesses choose off-prem data solutions instead of on-prem data solutions.
Internet of Things – IoT represents a new and growing source of data that is captured, in which every device connected to the cloud is a data point for collection and exchange.
Data – Data is what we as PASS professionals work with! It is the plural of datum – the most atomic form of information manifested as a fact or statistic used for reference and analysis. Furthermore, ACID intelligence can be described as the patterns associated with integrating new and emerging technologies with an emphasis on data in the cloud, and applying algorithms (such as machine learning and artificial intelligence) to that data. The screenshot below highlights some examples of software in which ACID Intelligence can be found.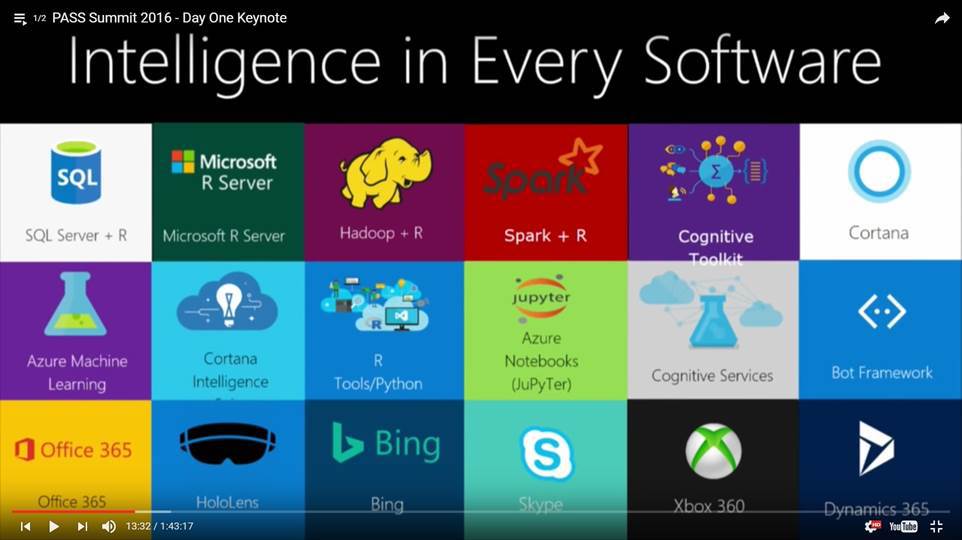 As PASS data professionals, the omnipresence of ACID Intelligence can be both exciting and daunting at the same time.  The vast array of software can be overwhelming.  Fortunately, Microsoft offers outstanding solutions like Microsoft Document DB, Azure SQL Data Warehouse, Azure Analysis Services, and Power BI,  that enable and empower businesses to utilize business intelligence at the "speed of thought."  All said and done, the end goal is to increase intelligence capabilities in smart devices and software applications. ACID intelligence is currently comprised of 3 main patterns: Intelligent DB, Intelligent Lake, and Deep Intelligence. We'll be discussing these patterns in more detail in a future blog post, so be sure to follow us on LinkedIn and Twitter to stay tuned.
Following this key takeaway from PASS 2016, we believe data warehousing/BI companies like ours need to not only be engaged in the many product offerings provided by Microsoft, but also need to make it a priority to constantly seek opportunities to utilize ACID intelligence as soon as possible. To achieve big results, we believe a strong and solid foundation in Microsoft SQL Server stack, both on and off-prem, in addition to an even stronger foundation in the cloud, are required for success.